Frequently Asked Questions (FAQ)
I have questions about the Residents' Association fees.
Your Subtitle Goes Here
Please visit the Fees page for more information on the Residents' Association fees.
What can our Residents' Association do and not do? What can our Residents' Association do and not do?
Your Subtitle Goes Here
As a Residents' Association, we work to build a strong sense of community among residents in Cooper's Crossing. We accomplish this by planning community events for our residents, enhancing the beautification of our community through initiatives such as increased parks maintenance (through a paid contract with Parks), planting of summer flowers, installing Christmas lights and by ensuring the encumbrances/caveats of properties in Cooper's Crossing are adhered to (shed and fencing standards).
We do not have any control over roadways (i.e. snow clearing, speed limits), pathways (i.e. snow clearing, repair), parks irrigation, bylaw enforcement (i.e. parking complaints, snow removal complaints, animal complaints, noise complaints), or disputes amongst neighbors.
What is the difference between a community association and a residents' association?
Your Subtitle Goes Here
Residential developers plan and create exceptional communities with additional amenities such as greenspaces, parks and much more. Developers understand that residents appreciate these types of amenities in communities and that these amenities add to the quality of life in a community. These communities are turned over from the developers to the City of Airdrie once residents start to move in. There are some improvements in these communities that the City of Airdrie does not recognize and maintain, such as optional amenities like gazebos, and park features. By utilizing the revenue from the mandatory resident fees, the Resident Association's fill this gap to operate, maintain and manage these amenities to the level expected by the developer.
The purpose of community associations is to meet the needs of the community and they can play a representative role in some communities. The membership fee is minimal and involvement is voluntary. Community associations can help protect the interests of a neighborhood, including surrounding developments, transportation, zoning, and a wide assortment of community issues.
Why is the mail from the Residents' Association addressed to me and my neighbor's is to Current Homeowner?
Your Subtitle Goes Here
The developer provides the Cooper's Crossing Residents' Association with a list of people who have built new homes in Cooper's and this information is passed along to C-Era Property Management and Reality operating under the umbrella of Associa globally.  These individuals are listed as the owners on the title of the property.
If the home sells, and no one informs us, then the mail is sent to the homeowner on file. If mail is returned because the homeowner on file no longer lives there, C-Era updates their records and addresses the mail to the Current Homeowner, as that is who is legally responsible for the payment of the Resident Association fees.
Note – If a homeowner rents the property, it is up to the homeowner to inform the renter to forward mail from the Residents' Association to the owner.
Why aren't the Annual General Meeting agenda packages emailed out to residents?
Your Subtitle Goes Here
There is no way to guarantee that emails are delivered to their intended recipients. In addition, email addresses can change frequently therefore it is impractical to keep an updated list of email addresses for 1200+ households.
What color do I stain my wood fence in Cooper's Crossing?
Your Subtitle Goes Here
All wood screen fencing facing public streets or parks must be stained the colour "Beachwood" by Cloverdale. The exterior SOLID STAIN is available at Cloverdale Paints in Airdrie (Sharkskin-Solid Stain (product #7240101)/colour EX202, with a 30% discount offered to AMA members) or at Airdrie Paint & Blinds (Arborcoat-Solid Stain/Colour EX202 on file in their system under "Cooper's Crossing").
What are the restrictions regarding fences and sheds in Cooper's Crossing?
Your Subtitle Goes Here
When planning Cooper's Crossing, Westmark Holdings canvassed other communities to get feedback on whether or not the developer should control the style and color of fencing. The feedback was that the developer should control fencing in an effort to have a consistent look/quality and to enhance the aesthetic of the community.
There is a permanent restrictive covenant registered against every lot in Cooper's Crossing regarding fencing and sheds. This covenant is to ensure a consistent standard of fencing and sheds is maintained throughout the community and to reduce conflicts between neighbors over fencing along common property lines. (note: Phase 1 of Cooper's Crossing is unique to the rest of Cooper's as the restrictive covenant did not include temporary structures – sheds).
Three types of fencing are used in Cooper's Crossing: wood screen, chain link, and steel ornamental. The type of fencing and specifications for each lot are determined by the location of your lot and stipulated in a permanent restrictive covenant against all lots in our community.
The fencing covenant includes what types of fences can be built, and what color they are painted. For example, all wood screen fences (including those made of pressure treated wood) facing public space must be stained a particular color.  The exterior SOLID STAIN is available at Cloverdale Paints in Airdrie (Sharkskin-Solid Stain product #7240101/colour EX202) or at Airdrie Paint & Décor (Arborcoat-Solid Stain/Colour EX202 on file in their system under "Cooper's Crossing").
"Facing public space" includes all lots which back onto a lane, park or pathway, as well as any fence that faces a street. Often people enclose their lots by installing a fence from the house to the side property line. This short fence section that faces the street needs to be painted regardless if this section is in line with the front of the house, is located midway down the property, or even if it is in line with the back of the house. If the fence is visible from the street when you are walking or driving by, it needs to be painted.
The shed covenant stipulates that all sheds must be constructed of the same materials and colors used in the construction of the home including but not limited to roof pitch, fascia, shingles and exterior cladding. The covenant also specifies if your property is bordering onto park space the shed must not be placed within 3 meters of any property line adjacent to the park. Because sheds can be highly visible the covenant was established to maintain a high-quality appearance within the subdivision and to help protect property values. Effort should be made to place the shed on your property to have the least impact for your neighbor's view. When possible, placing the shed beside the house in the side yard is preferable to placing the shed in the back yard.
If a resident has a shed or fence that is not in compliance with the restrictive covenant on their home's title, they will receive a notification from Westmark Holdings or the CCRA. These are generally sent out in the Spring and Fall and are sent out until such time as the homeowner complies.
Whose property is the sound fence on?
Your Subtitle Goes Here
Sound fencing must be constructed on public property, with the inside face of the fence on the property line.
During the design process a sound attenuation analysis is required for any residential development bordering arterial roadways or highways. Sound fencing is required in areas where the noise analysis demonstrates a sound fence must be installed and must follow the sound fence requirements.
The City of Airdrie assumes structural maintenance of the sound fence and cosmetic responsibilities on the City side of the fence.
Who do I call if I have found skunk, crow or magpie nests in City Parks?
Your Subtitle Goes Here
A: Residents are asked to call 403.948.8400 or email parks@airdrie.ca the City Parks Department when they find nests and eggs of troubling/pest birds (crows, magpies) or skunks on City property. City crews will remove nests on City property ONLY, usually early in the spring.  Crews will not exterminate adult or juvenile birds.
What can I do if I have an issue with a neighbor regarding their yard or home?
Your Subtitle Goes Here
The City of Airdrie has an unsightly premises policy.
Cooper's Crossing is Airdrie's premier community, and as such we hope that all residents will maintain their property to a standard that all residents can be proud of. Unfortunately this is not always the case and you may have a neighbor whose property is in disrepair. If this is the case, we encourage you to first speak openly,  honestly and respectfully with your neighbor regarding your concerns. Calmly outline the issues you have, why this is important, to you and together identify possible solutions to the issue.
We recognize, that sometimes communicating with your neighbor will not result in any action. If your issues is related to a municipal bylaw, you can report the issue to municipal enforcement. For example, the Community Services Bylaw, includes a section related to unsightly premises. This bylaw goes into great detail about what constitutes an unsightly premises. In part, it states:
"No Person, Owner or Occupant of a Premises within Airdrie shall permit the Land or Premises to be or remain in an untidy or unsightly condition, which means that the Premises shows signs of a serious disregard for general maintenance and upkeep, whether or not it is detrimental to the surrounding area, which includes but is not limited to the following:
(a)  any loose litter, feces, garbage or Refuse, whether located in a storage area, collection area or elsewhere on the Land;
(b) damaged, dismantled or derelict vehicles or motor vehicles, whether insured or registered or not;
(c) smelly or messy compost heaps;
(d) unkempt grass or weeds higher than ten (10) centimetres;
(e) production of any generally offensive odours;
(f) any tree, shrub, other type of vegetation or any Structure;
(i) that interferes or could interfere with any public work or utility;
(ii) that obstructs any Sidewalk adjacent to the Land;
(iii) that impairs the visibility required for safe traffic flow at any intersection   adjacent to the Land; or
(iv) that becomes a nuisance by encroaching on a neighbouring Premises.
(g) any accessible excavation, ditch, drain or standing water that could pose a danger to the public; and
(h) any Construction project or activity not completed within three (3) years of the date the permit for the project or activity was issued by the City or, if no permit was issued or required, within three (3) years of starting Construction."
All City of Airdrie bylaws are enforced, by  Municipal Enforcement. If you have questions pertaining to enforcement of municipal bylaws, please contact Municipal Enforcement, telephone: 403.948.8892.
How do I landscape around a "green transformer box" on my property?
Your Subtitle Goes Here

Padmounted transformers change high-voltage electricity to lower voltages that are used by appliances and lighting in your household. You may have seen these metal boxes near roads and sidewalks in your neighbourhood, perhaps on a lawn or garden. They contain high-voltage electrical equipment and have buried circuits and wires in the immediate area.
Like any other piece of important utility equipment, they are locked and should be left alone – don't let children play on or around them. If you see a transformer that is unlocked or has its doors open, note the identification number on the side and call us at 310-WIRE (9473). Keep everyone a safe distance away, at least 10 metres (33 feet, about the length of a school bus).
Landscaping around padmounted transformers
If you have a padmounted transformer and underground electricity cables and wires on your property, you need to plan how to landscape and dig safely around this equipment. The following guidelines will help you create a garden that is esthetically pleasing without jeopardizing safe access to the transformer.
Dig safely around padmounted transformers
Before digging, always visit Alberta One Call and click on Submit a Locate Request to find out the locations of buried utilities such as electricity cables and gas lines.
Padmounted transformers may have underground cables extending out about 0.3 to one metre (one to three feet), including ground wire buried 0.3 metre (one foot) deep. Like all power lines, the ground wire should not be moved or damaged. Digging around a padmounted transformer carelessly could cause not only service interruptions in your home or community but also severe or even fatal electric shock.
Plan how to "transform" your garden
Choosing plants carefully and planning where to plant them will help ensure their roots don't become entangled with the underground wires and that our technicians can always access the transformer.
When planning your garden, make sure there is at least 2.5 metres (eight feet) of clearance in front of the transformer doors to ensure technicians can safely complete their work, whether it's routine maintenance or responding to a power outage or emergency.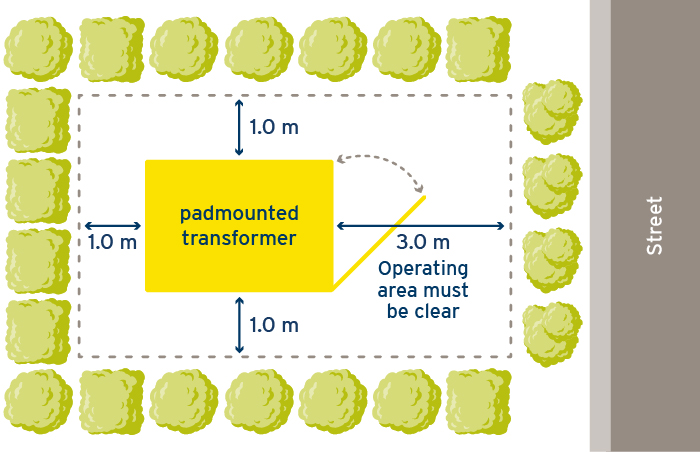 Sample landscaping diagram around transformer, leaving 2.5 metres in front of doors and 0.3 metres of clearance on each side.
Tips for choosing plants around the transformer
Draw a plan marking the location of plants, like the one pictured. No plants should be in front of the doors.
Note the height of the transformer so you can choose the right-sized plants.
Get advice from a nursery or garden specialist on the height, spread and root characteristics of the plants and how to plant them. Remember there may be ground wire buried 0.3 metre (one foot) deep, and you don't want roots that will become tangled with or obstruct this wire.
What are the architectural controls that exist in Cooper's Crossing?
Your Subtitle Goes Here
There are architectural controls on all homes in Cooper's Crossing. This is a condition set by the developer – Westmark Holdings. Once a house is built and passes an architectural inspection (the home was built as per drawings), architectural controls are removed.
How do I obtain more information on the encumbrances and restrictive covenants for my lot?
Your Subtitle Goes Here
For specific caveat information pertaining to your lot, you can obtain a copy of all the caveats registered against your property from a registrar's office, the lawyer who handled your property purchase, the Government of Alberta's SPIN2 website (Alberta Land Titles Spatial Information System)  https://alta.registries.gov.ab.ca/spinii/logon.aspx or by contacting the developer, Westmark, at 403-948-5300.
What happens with the CCRA encumbrances/caveats if I sell my house?
Your Subtitle Goes Here
Should you sell your house in the future, all obligations/encumbrances/caveats will remain on title.